Joyful Fun Supply Theme Park Brand Inflatable Toys Park
In 2018, as more and more inflatable product business owners knew us Joyful Fun Inflatable Toys, many inflatable park owners, event organizers contact us Joyful Fun teams. Because Joyful Fun provided good product and service for many cases and got good feedback and reputation. One of the customers just was from South-east Asia, who gets famous amusement park brand finally asked us to produce their inflatable park project.

In early July, the park side provides many especial inflatable toys design drawings of their theme park. After short negotiation about design reasonability, dimension, price and budget, the theme park side quickly place the order, firstly because the park side had visitor visited Joyful Fun inflatable factory before, knowing the factory experience, cases, technology, equipment, material, design ability, service, etc, secondly, the time is very short since the theme park had been arranged to be opened in middle of August. The customer knows that Joyful Fun has the fast production efficiency, and little delay before for customers.
Thanks for the park's trust. And as expected, Joyful Fun quickly made the 3D designs with approval and quickly completed the production well just in about 20 days. Even though in this order, the designs were all especial and of large size, all rides were customization, if it's for the ordinary factories, that would be difficult, but not for Joyful Fun. Joyful Fun has the strength and enthusiasm for customer. Joyful Fun teams also were happy for no letting customer down. The shipment was on time, because it requested shipping arrival on July 31- Aug 02, and about 10 more days for custom clearance in case of hard clearance in the country.
Anyway, Joyful Fun helped arranging the shipping by reliable forwarder, the container arrives in time, and customer finally got the inflatable products after a couple of days' clearance. Everyone was relaxed because the inflatable products were arrival on time. In several days, the theme park start to install the inflatable toys and test them well done. The inflatable rides' quality was satisfied. And after the park was open as expected, the customer got back to us with feedback, pictures and video of their park with appreciation.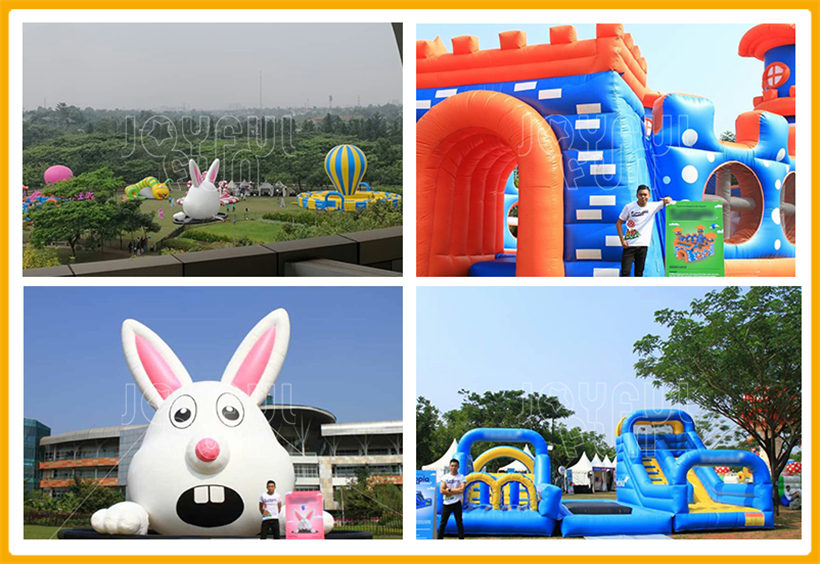 As a sincere OEM supplier for inflatable amusement, Joyful Fun declared we will always protect the product design docs and production data, will not sell or produce the customer's originally designed inflatable products which exclusively belong to them.
Welcome more inflatable amusement partners to cooperate with us Joyful Fun. Have really joyful fun in future business.