For Dubai Entertainment Brand, Joyful Fun OEM Produces Large Warrior Inflatable Obstacle Course.
In October 2018, Joyful Fun inflatables factory manufactured a large beast inflatable obstacle course for an entertainment event organizer brand. As an OEM factory, Joyful Fun inflatables specialize in manufacturing high quality inflatable games, including large warrior inflatable obstacle courses of different designs, different sizes and accordingly different cost budget.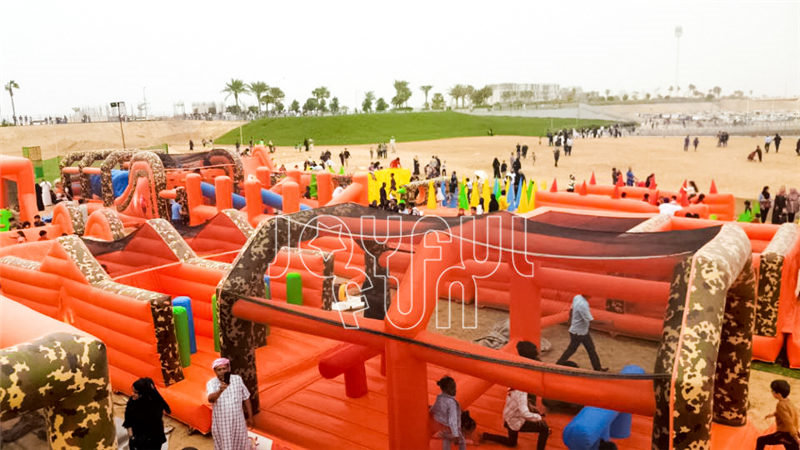 Many customers like park owner, event organizer, brand host asked Joyful Fun Inflatables factory for purchasing the large warrior inflatable obstacle courses. One of the customers who was come from Dubai, UAE found us Joyful Fun online ask us about the large obstacle course project. The customer also asked a couple of inflatables companies, after a long time of negotiation about the inflatable obstacles' design, production details, certificate and shipping, also after the comparison with other companies, the customer finally chose Joyful Fun as their OEM supplier. Because the customer could feel that Joyful Fun factory is experienced and professional, Joyful Fun team is sincere and truly, also serve well and carefully. And finally, the customer got the right products that proved they made right choice to Joyful Fun.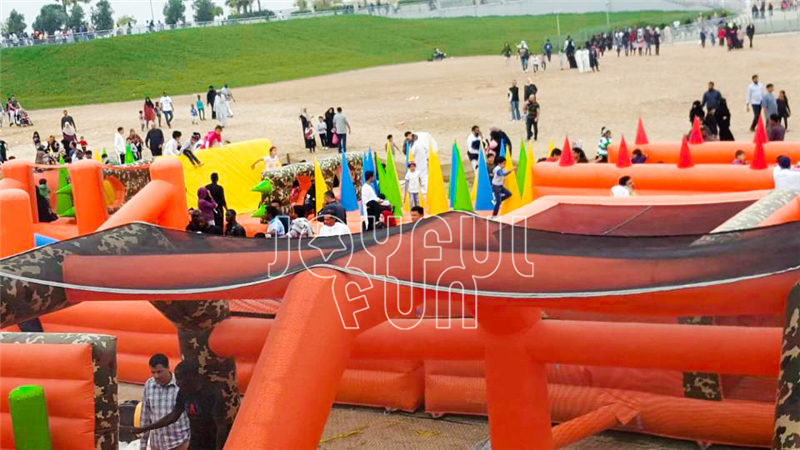 Joyful Fun inflatable obstacle course can be bought flexibly. Some customers bought the entire large obstacle course. But some partial preferable obstacle parts also can be chose by the customer. The customers' budget can be met, anyway, Joyful Fun would try the best to assist the customer and would never sacrifice the quality for profit to getting unreasonable cheap order.
Joyful Fun Inflatables factory uses good quality material, good design, accurate computerized cutting and more than 11 years' experienced technology. Joyful Fun teams are serious in making good inflatables in the industry for the responsibility and good reputation. Moreover, Joyful Fun would test all the inflatable obstacle parts before shipping them to customers. The customers could use the timely arrived large obstacle courses for their successful events and parks, and accordingly getting good benefit return, just as you see so many successful cases for the buyers and brands.