For a Theme Park Large Inflatable Dome Tent and Medium Inflatable Aqua Park
A theme park in Hunan, China found Joyful Fun for purchasing inflatable products for their inflatable project in the park. After the requirements talking, factory inspection and price negotiation, the order was placed soon. Afterwards the project design of the site and products were made before production.
As a long history inflatable factory, Joyful Fun could make so big inflatable tent well. The welding inflatables were made by exclusive technology and reinforcement. Joyful Fun also could make the inflatable water park well, since Joyful Fun is one of the earliest factories to make airtight inflatable water toy. This inflatable aqua park is of medium size, yet this park got many functions more than 20, besides, its cost is smaller because of its medium size, thus it's a very good choice of float water park.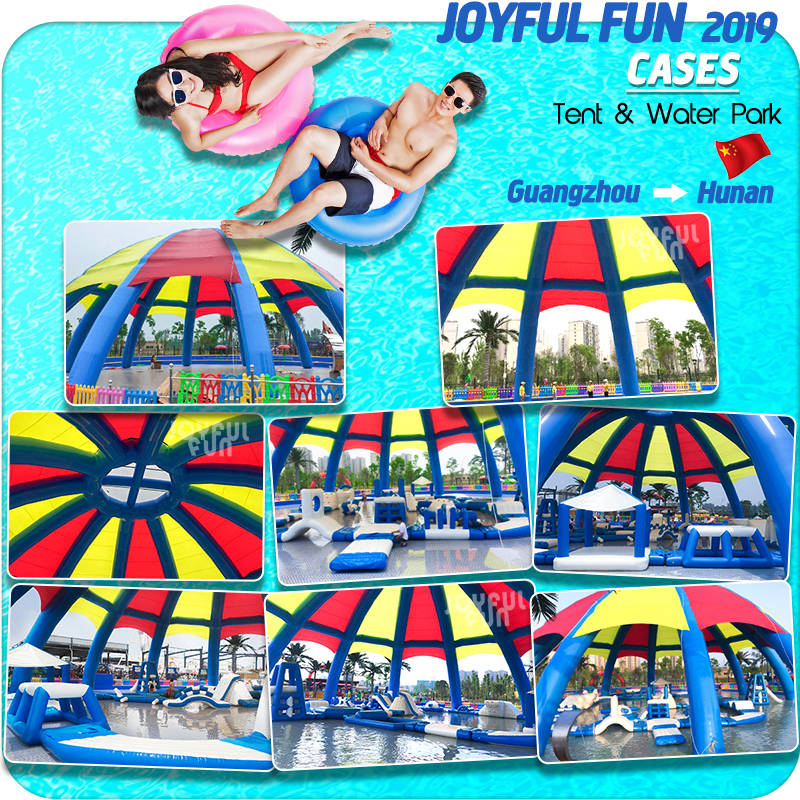 Shortly afterwards, in July 2019, as you saw, as the theme park planned, a very huge 30m airtight inflatable dome tent, a medium sized inflatable aqua park were made well done. Joyful Fun inflatable factory got the good inflatable welding technology and high efficiency. The inflatable products were transported by inland transport from Guangzhou to Hunan. And after the goods were arrived, Joyful Fun arranged manager going to guide the installation. Anyway, because the inflatables' installation is usually easy, the inflatable products were installed well done in one day, also the park organizer put water into the pool, moreover after the test next day, it makes sure that the inflatable project is working.

So choose Joyful Fun as your reliable inflatables supplier, you also could get business success just as the cases show. Choose Joyful Fun getting really good inflatables, save money, save time, save worry.